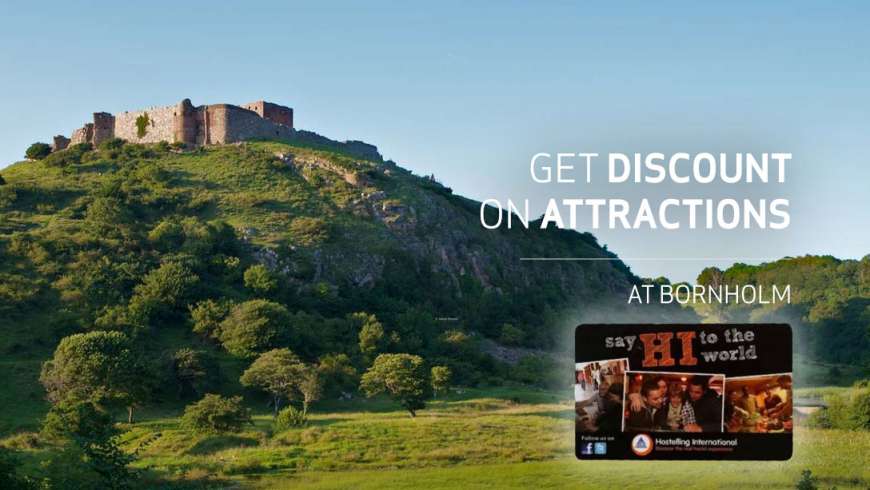 You get a 10% discount off your accommodation at any Danhostel when you show your valid Hostelling International (HI) card. Read more about the discount and HI card here.
You also get a discount at these attractions on Bornholm:
Bornholm's Museums (4 exhibition venues)
Cultural History Museum
Hjorts Fabrik
Melstedgård
Erichsens Gård
Sct. Mortensgade 29
3700 Rønne
Phone: +45 56 95 07 35
www.bornholmsmuseum.dk
Weekly adult ticket: 70 DKK (normal price:100 DKK) when you visit 4 of the Museum's exhibitions.  Free admission for children. 
Bornholms Tekniske Samling (Bornholm's Technical Collection)
Borrelyngvej 48
3770 Allinge
Phone: +45 56 99 99 80
mail@bornteksamling.dk
www.bornteksamling.com
60 DKK per person for 2 people.  Free admission for children under 2 years or 125,60 cm when accompanied by a paying adult. Free coffee/tea is included in the price.
Grønbechs Gård - Art Gallery
Grønbechs Gård 2-6
3790 Hasle
Phone: +45 56 96 18 70
info@groenbechsgaard.dk
www.groenbechsgaard.dk
Free coffee, cappuccino or tea with the purchase of an entry ticket
Danhostel Sandvig
Langebjergvej 12, 3770 Bornholm
At Danhostel Sandvig on Bornholm, you get budget accommodation at a popular Danhoste...
There are no results in the search you have made. Try another search.